Arup Sengupta, Founder and Promoter of Nuton Jiban, Kolkata attended one of my Fundraising Workshop which I had organized about a month ago. In a Webinar, he came up to me with a problem that his fund raising for his NGO has been poor and sought my help. He then attended my 7 day Fundraising Workshop in which I taught few other NGOs along with him step by step how fundraising can be made successful. There are plenty of fundraising opportunities available and Arup Sengupta, used one of the techniques on the 3rd day of our workshop and on the 5th day, he got Rs. 68,000 donated by anonymous donor. The Second Success for him was the call he received from Sonu Sood, the Film Actor, who after seeing his work donated 12 Sewing Machines along with Manoj Bajpai, another Film Actor. The Third Success for him was the call he received from a Crowd Funding Agency and they volunteered, took his photographs, video and started raising funds for him and within 14 days, he was able to raise Rs. 6,50,000. I have a Mentorship Programme which was launched soon after the workshop and I have 5 NGOs who have taken up this and benefitted out of it. Posting below some of his sharing in the NGO Group Batch 2 that I have created where there are about 17 NGOs helping each other. Here are some of those WhatsApp Screen Shots for your ready reference.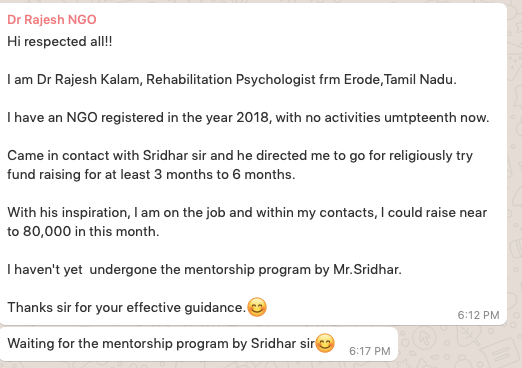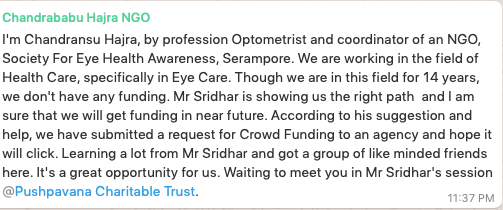 My name is V Sridhar. I am the Founder & Promoter of No Hungry Child, a Registered Charitable Trust, opened in the year 2009 with an objective to ensure "No Child in India should go to bed Hungry" I have been reasonably successful in launching Nutritious Meal Programme to about 250 Children and today with the help of different NGOs in about 19 cities, have been able to provide Nutritious Meal to about 21000 children. I am working towards providing Nutritious Meal to atleast 100,000 children who are underprivileged and are going to bed without proper food for the day. Prior to starting my own NGO, I was helping NGOs in the area of Fundraising. I stopped in-between supporting NGOs as they were expecting funds from me and if I don't provide they don't work on the programme. Now I have decided to help these NGOs as I have found a winning formula in helping them to raise funds and become sustainable.
V. Sridhar, Founder & Promoter, No Hungry Child
I am now on a mission to help 10,000 NGOs become self Sustainable.
If you are an NGO and need my help, just click the following pay button, make a payment of just Rs. 99/- and join my WhatsApp Group where 17 other NGOs are already there and in this group you will discover how every NGO is helping the other in their activities and are raising funds through my Mentorship Programme.
On the right side you will find a pay button. If you are interested in raising funds for your NGO, first step that you need to take is to join NGO WhatsApp Group formed by me by paying Rs. 99/-. Once you are inside, you will get to know what other NGOs are doing and how they have been benefitted by my Mentorship Programme which I conduct every Wednesday at 4.00 PM for the next 12 months. More about the Programme once you are inside the Group.